Making globalisation fair
Germany actively supports fair business and work practices worldwide – and is also providing concrete help in the corona crisis.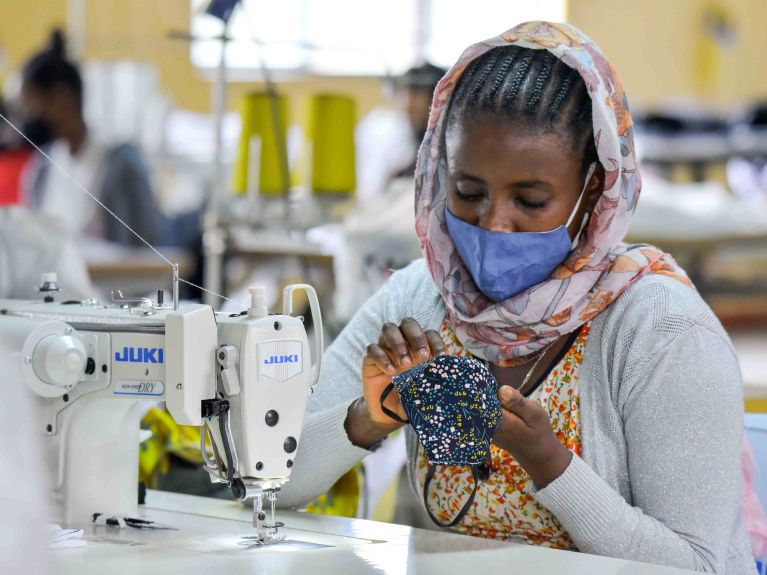 German policy is bound by the values laid down in the Basic Law. Germany also upholds these values internationally. Here you will discover how Germany campaigns for fair working conditions worldwide, also with regard to the corona crisis and technological innovations.
Responsibility for fair supply chains
The Federal Government already supported the issue of Promoting Decent Work Worldwide through Sustainable Supply Chains during the German G7 Presidency in 2015. This led to the establishment of the Vision Zero Fund (VZF), in which other countries and the European Commission participate as contributors, as well as the German Siemens Group as the first private supporter.  The VZF aims to improve working conditions in poorer production countries, whereby the focus lies on agriculture and the textile industry. The fund also campaigns for the best possible preventive measures against work-related accidents, injuries and diseases. Respect for human rights in global supply chains is also an important issue for Germany's efforts during its EU Council Presidency in 2020.
Making the future world of work fair
Technological innovations are speeding up the international world of work – and often hold the danger of new injustices. The Federal Ministry of Labour and Social Affairs has founded a Policy Lab to find sustainable answers for the digitalisation of the world of work. It is not only discussing the best possible working conditions in the platform economy ­– in other words, in relation to Internet-based business models – but also examining issues such as diversity in the new work society and measures against the structural discrimination of women. The Federal Ministry of Education and Research is also promoting solutions for the future of work – for example, with the IntWash network for the sustainable development of industrial laundries in the face of digitalisation.
Help in the corona crisis
The impact of the corona pandemic on the global economy is having devastating effects in many countries. The forced production stop and the interruption of supply chains have hit workers in the textile and clothing sector in poorer countries especially hard. In September 2020 the Federal Ministry for Economic Cooperation and Development (BMZ) made 14.4 million euros available to the International Labour Organization (ILO) so that businesses and employees in Cambodia, Ethiopia, Bangladesh, Indonesia, Laos, Madagascar and Vietnam would be better able to get through the corona crisis.
You would like to receive regular information about Germany? Subscribe here: