Startup capital Berlin
We tell three success stories and present key data and links to Berlin's international startup scene.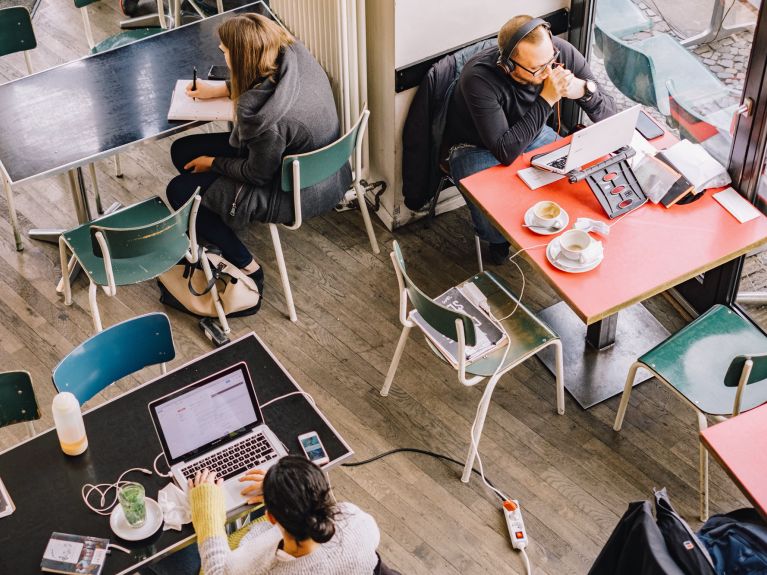 Berlin inspires: the city has the highest number of startups nationwide (17% share in a comparison of regions), the highest proportion of female founders (16.2%), the highest proportion of  international teams (50%) and the most external capital (54%) for up-and-coming businesses. Nearly half of Berlin's startups are developing digital business models. Here are three success stories.
Omio: travel agent on your smartphone
Is Omio Berlin's next "unicorn"? That's the name the startup scene gives to young businesses with a market value of one billion US dollars. In any event, the Gründerszene website describes the Omio travel platform as "one of Germany's most highly valued tech firms". It has arrived at this point after an almost text-book startup success story: the business idea developed when Indian Naren Shaam was annoyed by the difficulty in finding the most favourable bus, train and plane connections during a trip to Europe. Attracted by the good reputation of the startup biotope in Berlin, he came to Germany – where he is now one of the most successful business founders. Until recently, Omio was called GoEuro – now the journey is heading around the world.
Freighthub: digital forwarder
Transporting goods simply, swiftly and safely all over the world by container was the vision that launched Freighthub in 2016. Customers can go through all the necessary steps on the online platform: obtaining offers, booking, purchasing insurance, completing customs clearance and managing documents while tracking their containers worldwide in real time. Freighthub pools the services of 1,000 sea and air cargo service providers. Investors have already made available over 23 million US dollars, and the startup is thriving with offices in Hamburg, Cologne and Hong Kong.
Relayr: connecting with the Internet of Things
The business model of Relayr can be described as providing initial assistance for the digital transformation. The founders have developed a platform that connects existing industrial machinery with the Internet of Things (IoT). Sensors continuously collect data from machines – constantly check their pulse, as it were – which then makes it possible to detect wear and tear early and counter it with targeted maintenance. Companies can optimise production processes and save costs. The idea has caught on: Munich Re, the large reinsurance group, has acquired the startup, which was founded in Berlin in 2013, for 300 million dollars.