A little Chinese-German night music
The world's best young orchestral musicians are currently playing in Berlin. We met three of them – and had them perform a piece for us.
16.08.2017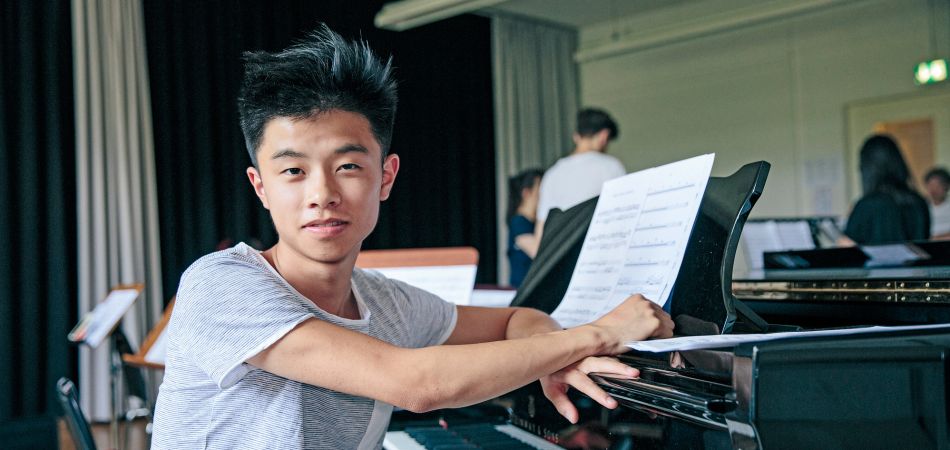 Germany. From 17 August, youth orchestras from all over the world will be meeting in Berlin for the Young Euro Classic, an annual festival staged by the German Circle of Friends of European Youth Orchestras. One of the world's leading youth festivals of classical music, it will see young musicians from Germany meeting there with ensembles from France, Cuba and East Asia. A particular highlight will be the Young Euro Classic Ensemble China-Germany, which will be opening the festival with a performance of Mozart's "A Little Night Music" and six inventions by Bach.
Under the artistic directorship of Hu Shengnan, a drummer who lives in Berlin, 18 Chinese and German youngsters aged between 16 and 25 years have been rehearsing since the weekend for their first – and only – joint performance at the Berliner Konzerthaus at the city's Gendarmenmarkt. The concert will also feature traditional Chinese instruments.
Antong Zou (19), piano
"I always wanted to become a musician, which I why I attended an upper school with a particular focus on music, and will be studying piano starting in October. I can hardly remember any times when I didn't rehearse for at least three hours a day. This week isn't just great for me as a musician, however: both my parents are originally from China – we have been there many times to visit my grandparents. But I don't have any Chinese friends because I was born in Berlin. So this gives me the chance at last to meet some Chinese of my age, which is really interesting, and also very funny. And sometimes I can also interpret for them a bit."
Nora Holtz (16), cello
"I began learning the piano at the age of five, and added cello when I was ten. When I received a call telling me that a young cellist was needed for this project I was really pleased. I find the Chinese instruments particularly interesting; many of them aren't known here, and have a very distinctive sound. I was also fascinated to learn that there are different languages in China – Mandarin and Cantonese. The rehearsals are also rather different, as everything has to be translated. In all other respects there are no differences when we are playing music together, however. When the conductor says something, everyone always understands the same thing."
Chen Simi (19), pipa
"The first thing I thought when I arrived in Berlin was: what a relaxed city, and what beautiful architecture. I hadn't expected that in such a large city; Beijing, where I will soon be starting my third semester, is much more stressful. The rehearsals with the German musicians are also really nice; it is a lot of fun, and in between we also have time to chat with one another a bit. I have played the pipa since I was five years old; my father is a pipa player too. I also study the instrument, which is a bit similar to the guitar, and would like to become a professional musician. My focus is on traditional music, but pop music in China is also played on the pipa."