Learn German by game
Learning vocabulary off by heart is so yesterday. Why language learning games are the best way to learn German and which apps we really recommend.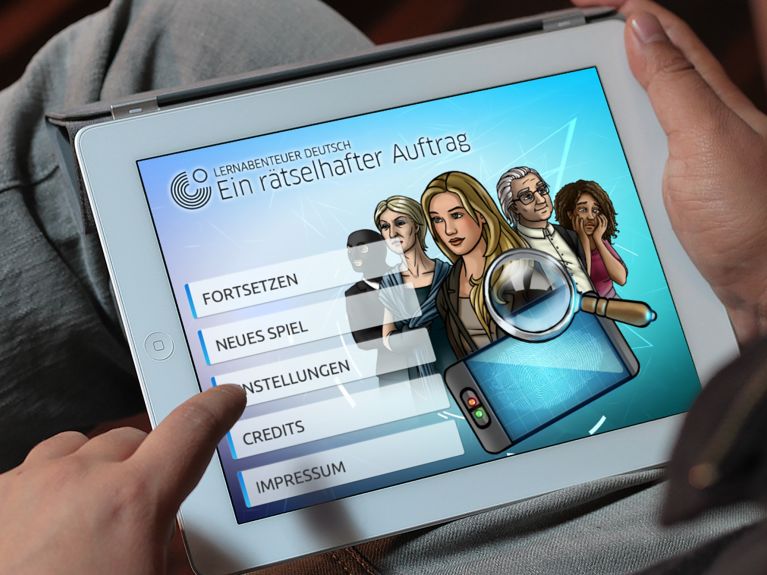 Drilling vocab, learning grammar rules off by heart, constructing sample sentences – for many years learning German was a bit like maths class: strictly systematic and abstract. Fortunately, all that has changed. New learning theories have led to self-learning, with cooperation and conversation playing a far stronger role. In addition, the trend of digital game-based learning (DGBL), so the specialist term, has also permeated the field of foreign language learning. In this context, games that serve more than just entertainment purposes tend to be called serious games.
Game-based learning relies on an idea that is as simple as it is obvious: Games spark enthusiasm and are motivating. If this is successfully transposed onto learning situations then learning should be playfully easy. Moreover, digital games create a setting that boosts learning: They are interactive, give you direct feedback and allow you to check your success rate and progress at any point in time. The fun of games coupled with relevant content is considered the recipe for success, maintaining learning motivation and achieving fast learning successes.
Apps and games for learning German
A large number of digital applications playfully promote the acquisition of language skills. The language app duolingo, for example, motivates you to learn your grammar and drill your vocab – by awarding points for the right answers, and with enough points you climb to the next level. Added to which you can set yourself targets for the day or compare your progress to that of your friends.
For real gaming fun, there's the Memrise app, where learners expand their language skills via an adventure game and then have to prove their prowess on various missions. Thousands of videos by native speakers demonstrate pronunciation and the use of words in everyday life. To practice their new skills, users can converse with chatbots.
In the "Lern Deutsch – Die Stadt der Wörter" app, devised specially for Goethe-Institut, the emphasis is on the social aspect. Together with an avatar the learners explore the game world, accomplish various missions, meet other players, and can challenge them to competitive exercises. Successfully completed missions are rewarded with points and accessories for the avatar. And there's a "Best Player" list to really spur you on to greater things.
Goethe-Institut is also the source of two games that use puzzles, combining skills, and interactive dialogues and are reminiscent of classic adventure games: "Lernabenteuer Deutsch – Das Geheimnis der Himmelsscheibe" sends learners off on an exciting trip all over Germany in order to find out whether the 4,000 year-old Nebra sky disc has been stolen.
In "Lernabenteuer Deutsch – Ein rätselhafter Auftrag" the protagonist receives a mysterious letter from her uncle that guides her round Germany, where she gets caught up in a crime case. Both learning adventures familiarise players not only with the German language, but also with the country – as they have to master all manner of different communications situations.
How effective are language learning games?
Digital language learning games are very clearly aimed at ambitious self-learners. While they offer new, effective ways of learning a foreign language, they best bring their entire potential to bear if they are strongly backed up by support at the teaching level. In fact, they are most effective if combined with classic learning elements. Moreover, the medium of the learning game presumes careful preparation, as the fun of the game and thus learning success only really occur if game mechanisms and the scope for action, success monitoring and feedback are all well coordinated.
Games to learn foreign language skills are a response to the diverse new challenges that a changing education world poses, which calls for each and every student to engage in active, self-managed, lifelong learning. Language learning apps enable you to learn whenever and wherever you want. This playful way of learning a language extricates you from formal structures, is almost casual, and relies on small teaching units that can be simply and easily integrated into everyday life.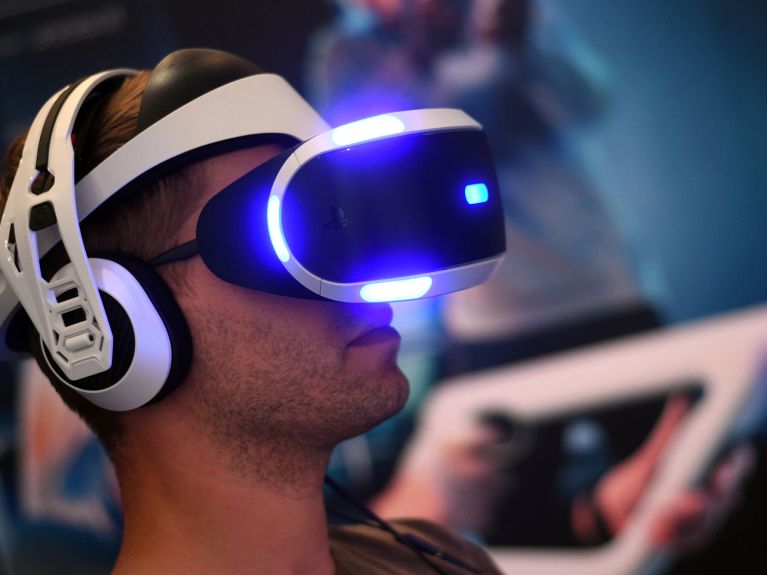 Learning languages using Virtual Reality
Technical progress will continue to generate an ever-growing, colourful range of game-based applications for acquiring foreign languages. In particular, Augmented Reality and Virtual Reality promise new paths to acquire foreign languages. The advantage is that they convey to learners the impression of actually being in the country in question and experiencing authentic communications situations.
Connecting real and virtual worlds will enable those immersive experiences that are actually the ideal for any foreign language class. And interactivity and the rich world of images and sounds that video games offer will foster any amount of fun in learning that is the basis for all good teaching.
You would like to receive regular information about Germany? Subscribe here: