"Using video games to solve global problems"
Can video games address sensitive issues and increase our empathy? Games curator Mascha Tobe explains how games can be both serious and fun.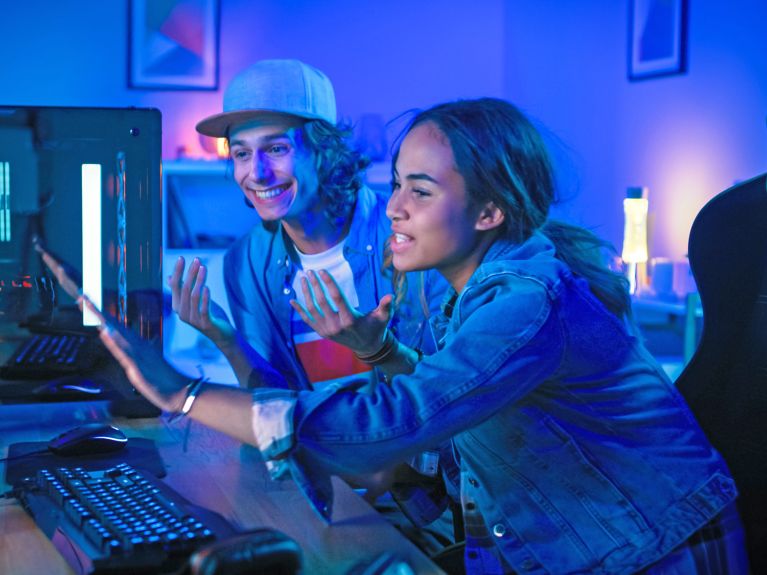 Ms Tobe, video games are for many people an escape into a fantasy world, while they offer others a chance to give free rein to their own creativity. Why do you believe that serious and educational games have become so popular nonetheless?
Though serious games may address more sensitive issues, this by no means stops them being an enjoyable gaming experience. Many people also like to read socially critical crime novels or watch dramas. These deal with serious and perhaps even existential topics. And what we take away from them are key experiences and insights for our own lives. This is no different with serious games, in my view. I believe that the success of educational games reveals a lot about our understanding of learning, which has changed considerably in recent years. We learn better in environments in which we feel comfortable – and this includes virtual settings.
So will the serious games market continue to grow bigger and bigger?
These days it is virtually impossible to make any realistic predictions. But I will tell you what I hope to see: a thriving, diverse and stable video games industry that has the freedom to keep creating new things, to think freely, and to continue exploring this medium. In view of what is currently happening in connection with the corona pandemic, we need to take a long hard look at the way we view education and contemporary learning. And we should attach greater importance to educational games, serious games and indeed all other games.
Can a video game really address complex and sensitive content such as the Nazi resistance movement?
Yes. A game created by the Berlin studio Paintbucket Games, "Through the Darkest of Times" is a very good example of how historical content can be presented in video games. This game serves as a reminder of what happened in the past and cautions us never to let it happen again, but above all it is a powerful experience that will have a profound impact on those who play it. What I like especially is the diversity of the media it uses: players read headlines from the major daily newspapers, listen to the radio, experience scenes from everyday life, and much more besides.
Can we learn with the aid of video games to solve global problems?
Digital games can give us on the one hand an understanding of complex correlations, while on the other they have the potential to increase our empathy by shedding light on individual fates. In my opinion, that creates wonderful conditions for learning how to solve global problems with the aid of digital games.
We have a tip for all gaming fans who find themselves spending a rainy afternoon in Berlin: at the Computer Games Museum you can see, touch and play game exhibits spanning several decades – like Pong, Pac-Man or Space Automat.
You would like to receive regular information about Germany? Subscribe here: