Three good reasons for studying in Berlin
Everyone will find the right degree course here: an overview of major universities and colleges with fascinating degree programmes.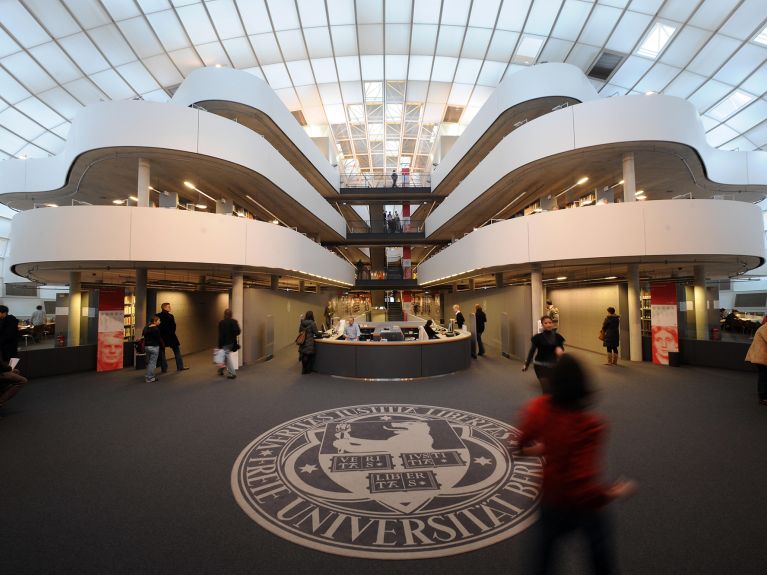 Berlin is one of the most popular university cities worldwide: QS World University Ranking 2019 lists Germany's capital in 7th place. There are at least three good reasons for studying in Berlin:
Strong higher education and research centre: Berlin has four state universities and seven excellence clusters, four art colleges, seven universities of applied sciences, roughly 30 private higher education institutions and over 70 non-university research centres.
Internationality: Berlin offers a large selection of English-language programmes and a network of students and researchers from all over the world.
The city: Berlin is considered one of the world's most attractive cities with a multifaceted cultural offering, a legendary club scene and its animated history.
Quick facts
4
state universities
form the mainstay of Berlin as a higher education centre.
7
excellence clusters
at Berlin universities are being funded as part of the Excellence Strategy of the Federal Government and the German states.
11
state higher education institutions
and two denominational colleges are based in Berlin.
30
private higher education institutions
offer state-recognised qualifications.
191,000
students
are enrolled at higher education institutions in Berlin. One in five come from outside Germany.
The state universities
Charité – Universitätsmedizin Berlin
Do you want to study medicine in Germany? The Charité – Universitätsmedizin Berlin enjoys an outstanding international reputation for medical research. It is the joint Department of Medicine of the Freie Universität and Humboldt-Universität.
Beuth University of Applied Sciences
A top address for would-be engineers is Beuth University of Applied Sciences. It is one of Germany's largest universities of applied sciences with 13,000 students. Its Bachelor degree programme in humanoid robotics is unique in Germany.
Code University
Programming is the key technology of the future, an essential skill for digitalisation. It is also what you can learn at the Code University, which was established in 2017. Its founders wanted to offer a practice-oriented alternative to a degree programme in computer science. This private, state-recognised higher education institution offers English-language Bachelor programmes in software engineering, interaction design and product management.
Hertie School of Governance
Do you want to pursue an international career in the public sector, politics or civil society institutions? The private Hertie School of Governance trains the managers of tomorrow. One particularly special offering is a structured doctoral programme focusing on governance and public policy.