In the digital lecture theatre
Using technology to overcome the corona restrictions: how German universities are taking advantage of digitisation. We look at three approaches.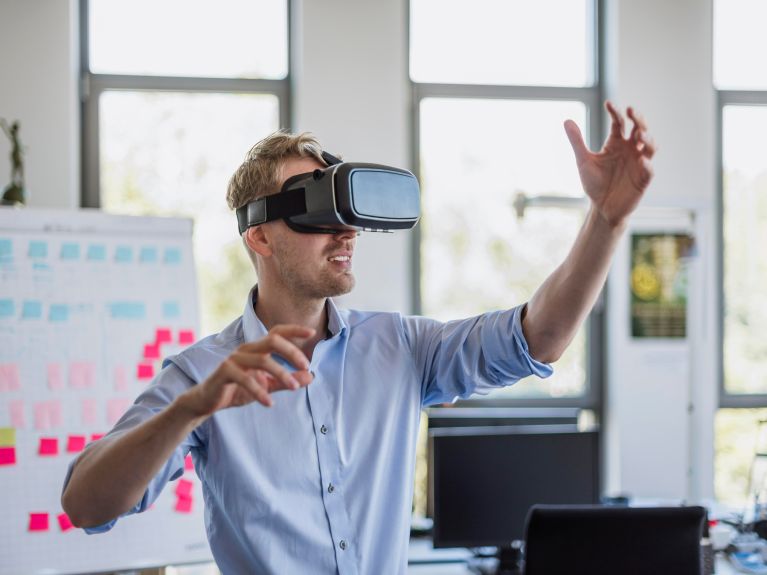 RWTH Aachen University: Exchange via avatar
Originally intended for international exchange, it is now helping during the corona crisis: the MyScore (Mobility System Cooperation in Higher Education) project makes it possible for teachers and students to engage in exchange in the virtual sphere. Wearing VR goggles, they meet as avatars there in various 3D settings for online courses. "Because of the pandemic more widespread use is now being made of such options", explained blended learning expert and RWTH professor Heribert Nacken in an interview with the specialist magazine "Forschung & Lehre". "Many lecturers have discovered the potential offered by digital technology and now want to incorporate these formats into their courses long-term. For exams we have been using a solution we developed ourselves ('Dynexite'), which can also be used by other universities."
Philipps-Universität Marburg was one of the pioneers in digital teaching even before the corona pandemic. Server capacities have recently been expanded and services optimised so that videos can be made available and used, for example. Chats, shared whiteboards, discussion tools, shared notes and break-out rooms for working in small groups can also be used for online teaching. Furthermore, academics can take advantage of a service centre for digitally-assisted research. Jürgen Handke, a longstanding professor at Philipps-Universität Marburg, shows how the inverted classroom can be used in the corona era.
Hamburg Open Online University: far-reaching network
In Hamburg, no fewer than seven universities plus the Medical Center Hamburg-Eppendorf (UKE) are benefiting from the alliance that is the Hamburg Open Online University (HOOU). The HOOU is coordinating the development of innovative digital learning services, and during the corona pandemic has been putting teachers and media producers in contact with computer and didactic centres, as well as with e-learning support facilities. All HOOU content is OER (open educational resources), which means not only that it can be used free of charge, but also that others can edit the content and incorporate it into their own educational offerings.
You would like to receive regular information about Germany? Subscribe here: