"My special mother tongue"
The "speech of the natives" or a very special language? The bestselling author Wladimir Kaminer reflects on Mother Language Day.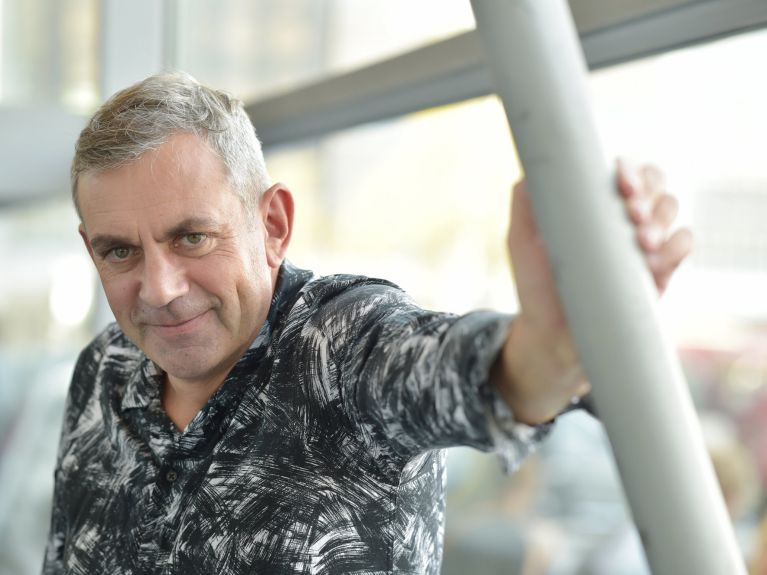 Twenty years ago his novel Russendisko (Russian Disco) made the writer Wladimir Kaminer internationally known. The fifty-two year old, who grew up in Moscow, has lived in Berlin since 1990 and writes his books in German, not in his Russian mother tongue. A guest contribution to Mother Language Day.
"You don't write in your mother tongue? That must be incredibly hard for you!" I am constantly confronted with such remarks. Actually, I have only recently developed a mother tongue. My mother is eighty-nine years old; she doesn't hear well, but doesn't want to wear a hearing aid. With age, people sometimes develop an acute sensitivity to sounds. My mother says she can't have breakfast or watch TV with the hearing aid because she hears herself chewing and her cat snoring. But the voices of their fellow human beings are still too faint and incomprehensible, especially if they have high voices.
So I developed a special mother tongue for conversations with mum; I try to speak in a deep, clear voice, gesticulate and repeat everything twice. It works well. And maybe this type of communication has also influenced my literary work. Writing in German, I try to express myself as clearly and understandably as I do with mum. In Russian, by the way, "language" is a masculine noun and has nothing to do with mothers. The Russian word for mother tongue, translated literally, means "the speech of the natives".
My children, who were born in Germany and brought up bilingually, cheekily claim that they don't have a normal mother tongue, just a secret language that hardly else anyone understands. Their language areas were more or less a two-room flat. At home, they heard a Russian that was generously enriched with the vocabulary of raillery, because in Russian it is possible to reproduce a lot of complicated interpersonal content only in special forms of raillery. In kindergarten, the children successfully learned to speak the Saxon dialect. It so turned out that most of the nursery school teachers in our East Berlin kindergarten came from Saxony, so that all the children had down pat this marvellous dialect which reminds me of birds singing, of somewhat perplexed songbirds who can't decide whether to move on south or stay in the east.
Today our children say they are confused when they remember their kindergarten years with their peers. They all sang the same songs back then, but our children probably misunderstood them. The same with Bibi Blocksberg. It wasn't until much later that my daughter realized that not only Bibi but all the girls in the film were witches.
Russians think my kids are Germans, Germans think they are Russians, and only their mother really understands them, because only she can speak their secret mother tongue.
Contest
Deutschland.de is organizing a competition for International Mother Language Day. From 17 to 28 February 2020 you can register here and win a handy digital translation device and attractive German learning packages!
You would like to receive regular information about Germany? Subscribe here: