The kingdom of cyclists
Why people cycle in the Netherlands without being in constant fear of their lives.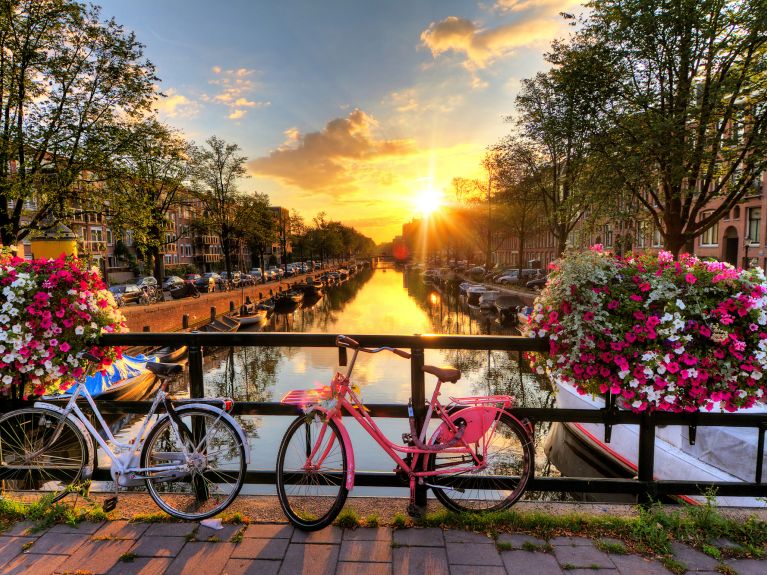 One child in front, one behind, right and left shopping bags filled to bursting - and all without a crash helmet. What for my German friends, when they visit me in the Netherlands, appears to be a suicidal enterprise is, for Dutch women, the most normal thing in the world. In the saddle they are true balancing artists, and at the mention of a crash helmet they stare at you blankly: " Echt nie!", says Ina indignantly. Then she could no longer feel the wind in her hair, and that's a must when fietsen (biking). At least here behind the dikes.
In accidents, the motorist is at fault as a matter of principle
But in the Netherlands, cyclists are also veritably packed in cotton wool. There is not only a special law that protects them in traffic: in accidents with cyclists, the car driver is to blame as a matter of principle. Cyclists also have their own roundabouts, their own traffic lights, tunnels, bridges, more and more expressways and in Utrecht, since August 2019, also the largest bicycle parking garage in the world. No wonder the bike is an integral component of Dutch life.
The number of citizens who leave the car behind and cycle to work is between 40 and 45 per cent. Through a whole series of measures, the state and municipalities are trying to raise that figure. As a result, more and more cycling areas are being created in inner cities, where motorists are in principle unwelcome. Not to mention financial incentives: many companies subsidize their employees when they acquire a fiets to get to work, and the remaining costs can be deducted from taxes. Like motorists, fietsers are reimbursed 19 cents by their employer for every kilometre on the way to work.
17 million Dutch have 22.1 million bicycles
Nowhere else in the world is bike density as high as in the kingdom of cyclists: the approximately 17 million Dutch own per capita an average of 1.3 bikes. But beware: the pace on bike paths has speeded up and they have become more crowded. Especially in Amsterdam tourists like to make the mistake of discovering the city on a rental bike.
Amsterdam fietsers are notorious: they basically come at you from all sides and always at breakneck speed, not a little dangerous for inexperienced tourists. That's why I always ramble around Amsterdam with visitors from Germany by foot. Which is exciting enough: you can sometimes only get out of harm's way by jumping away from a fietser.
The upshot?
Cars don't always have to have the right of way. Bicycles need their own space on the streets; then many city dwellers climb onto the eco-friendly bike.