Tram miracle in Strasbourg
deutschland.de asks what mobility will look like in the future: Lack of money was in France the reason for the tramway construction - today it is considered world-wide exemplary.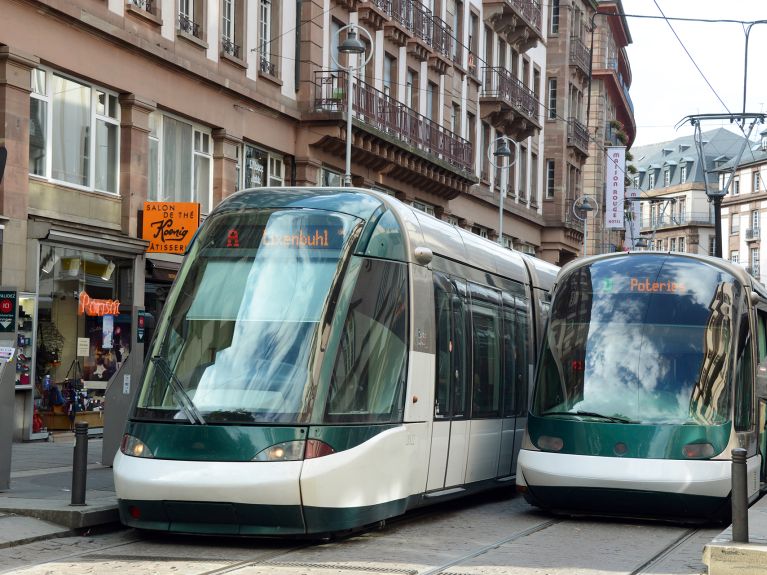 In some places, the tram is like the good old vinyl record: for a long time it was believed that it had gone completely out of fashion, had been superannuated by other technical innovations and had disappeared into oblivion forever. Trams had dominated urban transport in the first half of the twentieth century, but in France as elsewhere in the 1950s and 1960s they were replaced by buses, which were considered more flexible and less expensive.
But in the 1990s, medium-sized French cities, whose resources were insufficient for the construction of underground lines and in which road traffic had become increasingly unbearable, thought again about above-ground rail networks. Grenoble and Nantes were the first to test the reintroduction of trams. Inspired by this, Strasbourg also decided against an underground and for a tram revival. And what a revival! This work of urban transformation in the city on the border to Germany is still considered today exemplary for city planners worldwide.
A moving walkway, quiet and environmentally friendly
With the construction of the six tram lines, not only the mobility of the people in the city on the Rhine has been redesigned: the face of the city has also changed significantly. If in the post-war decades the cities were still geared to the needs of motorists, now began the reconquest of urban spaces by pedestrians, cyclists and the low-noise trams.
The Strasbourg trams are set deep in the streets and are constructed almost entirely of window fronts. The design is intended to make them look like a moving sidewalk; the cars glide instead of jolt over the tracks. The expansion of the Strasbourg tram network to over 46 kilometers took place in several construction phases. Right from the start, parking zones were set up on the outskirts, so that motorists could easily reach the surrounding countryside. And the aesthetic aspects were also taken into account by commissioning artists and designers to design the stations and graphic elements.
By tram to Germany
Air pollution and noise pollution declined, the residents' quality of life increased, and word spread quickly to other French urban centres. The Strasbourg model inspired cities such as Montpellier, Bordeaux and Nancy to align their urban concepts with trams. By the way, since 2017, the Strasbourg trams have been crossing the Rhine via a bridge to Kehl in Germany.
The upshot?
Modern trams are quiet and environmentally friendly. Old tracks are often still present. But, depending on the layout, fenced-in tracks and fast-moving railways can cut up the city.
You would like to receive regular information about Germany? Subscribe here: