The tradition of the "April joke"
On 1 April, Germans make fools of one another with tall stories.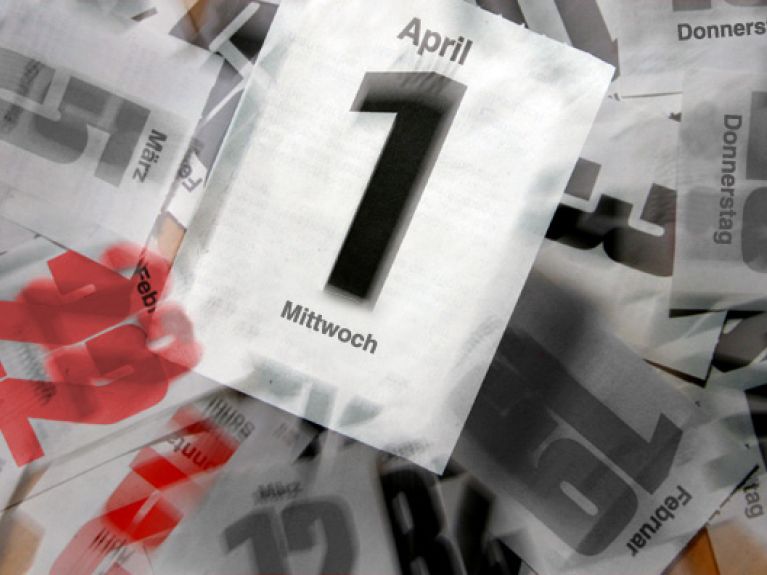 In Germany, 1 April is a day on which gullibility doesn't pay off. Even today it is still customary to confuse people on this date by sending them on ridiculous errands or telling them absurd stories – in order, eventually, to have a good laugh. In German, making an April fool of someone like this is described as "sending someone into April". This phrase was first recorded in Bavaria in 1618. The German word Aprilscherz (literally, April joke) came into widespread use during the second half of the 19th century. There are various explanations about the origin of this phenomenon. In antiquity it was already a popular belief that there were unlucky days, which included 1 April. Occasionally, references are made to the Diet of Augsburg in 1530, when speculators lost lots of money. They were laughed at and the date became a "Fools' Holiday".
Fake Schubert mass
Whatever its origins, April Fools' Day and the associated jokes are traditionally also celebrated in the media. The oldest April Fools' joke in a German newspaper was published on 1 April 1774. It was an absurd piece of advice on how to breed multicoloured hens. What must be the most complicated April Fools' Day joke in the German media was organised by Cologne-based broadcaster WDR: the station transmitted the "world premiere of a previously unknown mass in C minor by Franz Schubert that was discovered under very adventurous circumstances". The audience was enthralled. In reality, however, the supposed sensation was based on a musicians' bet. Shortly afterwards, WDR announced it had been the intention to compose a musical work that would have the effect of a Classical-Romantic masterpiece. Franz Schubert had nothing to do with it: April fool! 
© www.deutschland.de