"Covid-19 brought tough challenges"
Germany's EU Council Presidency: Despite last-minute successes, chancellor sees mixed results for term overshadowed by Covid-19.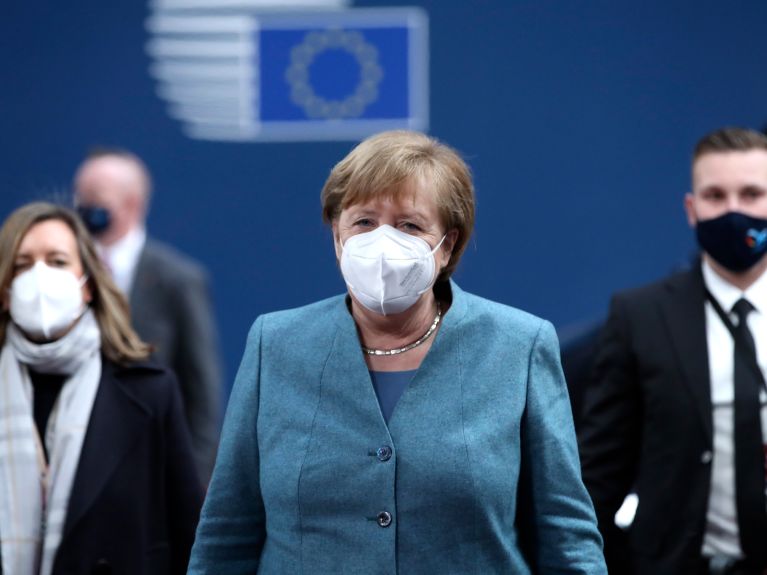 "We were unable to implement a lot of things, and that's unfortunate," said Chancellor Angela Merkel as she summed up the German presidency. Germany had prepared itself with numerous projects and topics for the EU Council Presidency long in advance and with great intensity. But then the pandemic took hold. "Covid-19 brought tough challenges," Ms Merkel said following the last EU summit of the Council Presidency in December 2020. Nevertheless, the overall results are positive.
Climate protection
By 2030 the EU aims to reduce greenhouse gasses by at least 55 per cent against 1990. Prior to this new decision the target was a 40-per-cent reduction. The Federal Chancellor said that this is a "very, very important result," and "it was well worth missing a night's sleep to reach this decision."
Covid-19 and Recovery Fund
"It took a great load off my mind," Chancellor Merkel said at the end of the complex negotiations and the last-minute agreement. For weeks, Poland and Hungary had rejected the linking of EU aid to the rule of law, and they blocked both the EU Covid-19 support measures as well as the multiannual financial framework. They only modified their position after prolonged negotiations at the summit. "That was really hard work," Merkel said later, when she gave some brief insights into the real extent of the task.
Turkey and the Southern Mediterranean
Chancellor Merkel is disappointed that efforts to mediate between Turkey and Greece in the conflict surrounding natural gas in the Mediterranean have so far proved fruitless. She said that the offers of dialogue that were made to Turkey had "not been taken up to the extent anticipated". "The activities in the Southern Mediterranean are still continuing, and Cyprus is suffering particularly from this situation."
Portugal assumes presidency
Portugal is taking over the presidency from Germany on 1 January 2021, within the framework of the Trio Programme of the EU Council. Ms Merkel wished the Portuguese Prime Minister, Antonio Costa, all the best and added: "We've left a bit of work for you to do." The Federal Chancellor also thanked the President of the European Council, Charles Michel, and European Commission President Ursula von der Leyen: "We made a good team and were able to resolve the major tasks that just happened to be on the agenda during the German EU Council Presidency:" The chancellor concluded by saying that, despite many unfulfilled plans and projects: "Just let me add, that this EU Council Presidency has been a pleasure."
You would like to receive regular information about Germany? Subscribe here: