"Peace work is like a snail"
OSCE observer in Ukraine: Herta Eckert tells how peace is returning to Luhansk.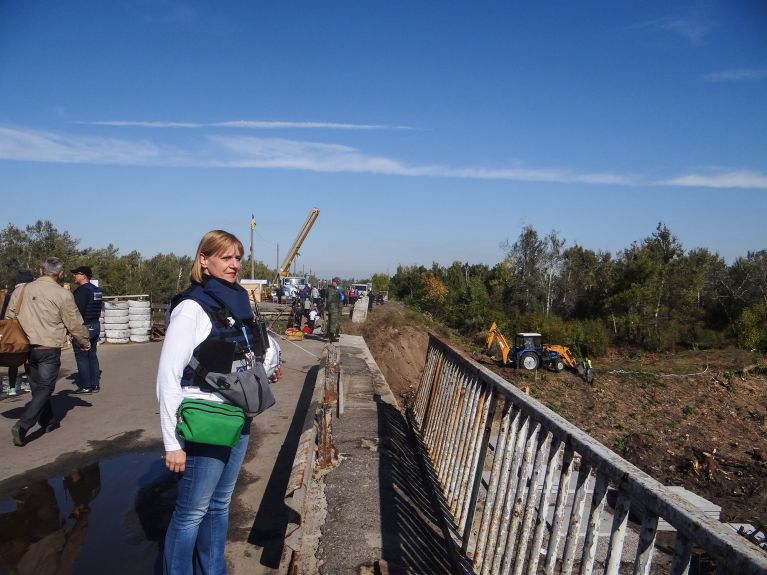 "My assignment as Monitoring Officer of the OSZE in Ukraine began in March 2015 with a trip from Kiev to the embattled eastern part of the country. When we crossed the front line in our armoured vehicles and arrived in Luhansk a little later, my first impression was: it doesn't look that bad here, there's normal life in the streets.
But I soon realized that this wasn't quite true. Compared with before the conflict, the streets were very empty, as were the shelves in the shops; you saw few families with children. At the time, you could still often hear the armed clashes between the government forces and the non-government units. Today the front line runs a few kilometres outside Luhansk; the city itself is in the hands of non-government forces.
One of my main responsibilities is to document violations of ceasefire agreements and, in the event of infrastructure damage, to ensure that, for example, water or power lines are repaired. To do this we're often on the front line, but also in the hinterland on both sides. We're always unarmed. Although the general situation is much better today than it was in 2015, civilian casualties are still frequent, often because of mines.
Peace work is a like a snail, and it's often frustrating how slowly things change. But even a snail moves. In Luhansk, for example, there's a bridge that was destroyed in 2015. Since then, the only connection between the government and the non-government side has been temporary wooden ramps that people can cross only on foot. This is very difficult, especially for elderly and physically restricted people.
Many people have family and friends on both sides of the front line. Recently, after years of negotiations, the area around the bridge has been disarmed on both sides, and now the reconstruction of the bridge is slowly beginning. It's very moving to witness this.
I've been working for peace building organisations for more than 20 years. I started in Bosnia-Herzegovina in the 1990s. What I've learned all along is that people all over the world want security and a future for their children. The contact with the people is the most beautiful thing about my work; when they say: "Good that you're here".
For me, peace means humanity, and we bring that with us. Shortly after my arrival, we met here on the frontline a six-year-old girl who lived with her grandparents. We went seeing her again and again, if our schedule allowed it. Today Sonja goes to a boarding school in Luhansk. I said to my colleagues: "Who knows, maybe one day this little girl will become president of her country and then remember the OSCE."
You would like to receive regular information about Germany?
Subscribe here: