Commitment for, by and with women
All over the world, men have more rights and opportunities than women. Germany is committed to changing this.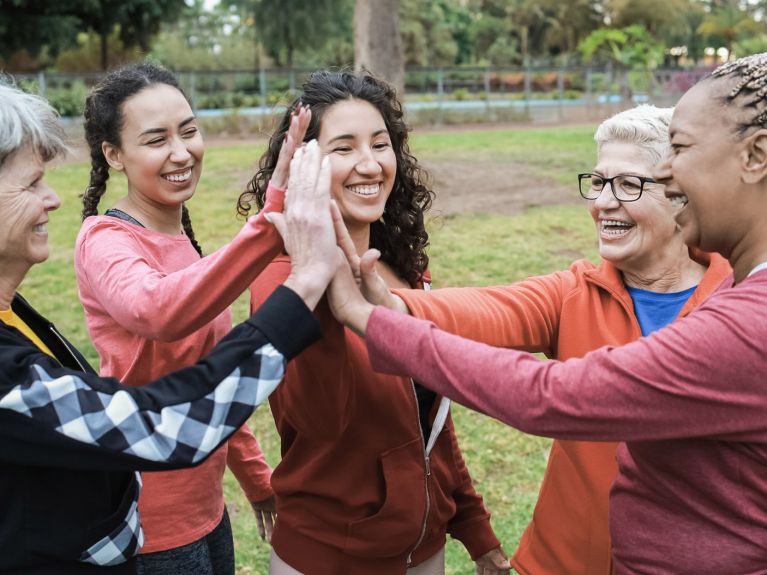 Networked for women's rights
One region that tends to be characterised by a rather traditional view of gender roles is Latin America and the Caribbean. By global standards, violence against women is highest there. The women's network "Unidas" is fighting for more gender equity and equal opportunities. It was established at the initiative of Germany's Federal Foreign Office in 2019. Unidas offers a platform on which women from Latin America, the Caribbean and Germany can get together. The network organises educational events to strengthen women's rights and feminist solidarity on a cross-border level.
For more stability
Women are underrepresented in politics in African countries, too. However, a new generation of female politicians is on the rise. The "African Women Leaders Networks" are committed to helping African women play a key role in the areas of governance, peace and stability. Germany is one of the initiators of this network, which was established by the United Nations and the African Union Commission.
Peace Fem app – women promote peace
An origami dove of peace is the icon of "Peace Fem" – a UN Women app that can be downloaded onto any smartphone. Available in English and Arabic, it offers female activists in Iraq, Yemen, Libya and Syria data and materials for numerous peace negotiations. The app is designed to help them participate in peace processes in their countries. The Deutsche Gesellschaft für Internationale Zusammenarbeit (GIZ) developed this unique and easily accessible source of information in a joint project with UN Women.
Time for feminist foreign policy
Boasting a female foreign minister and a governing coalition that has enshrined feminist foreign policy in its coalition agreement, the German government is focusing on women and on ensuring that they are increasingly represented in diplomatic roles. German foreign policy has long been promoting gender equality worldwide.
The Berlin-based Centre for Feminist Foreign Policy (CFFP) wants to combat patriarchal and violent structures, and is calling for disarmament and an end to the international arms trade. According to its co-founder Kristina Lunz, feminist foreign policy prioritises human rights and the needs of all people.
Join in!
Would you like to network digitally with other committed people, discuss ideas and inspire one another? You now have the chance to do just that.  Take part in our prize competition and you could win:
 
participation for one person in an exclusive Herr & Speer digital workshop on the subjects of feminism, diversity and HeForShe
participation for one person in a high-quality virtual event to build personal links with female business founders from Germany and the world
What do you need to do? You have until 27 March to comment on one of our #FemaleFuture posts on our social media channels and tell us why the subject of equality is close to your heart.
More information about the campaign can be found on our Instagram channel.
You would like to receive regular information about Germany? Subscribe here: