Rising rents
Tens of thousands of people in Berlin have demonstrated for affordable housing and even demanded compulsory purchases to achieve it. Is that the solution?
Martin Orth / 12.06.2019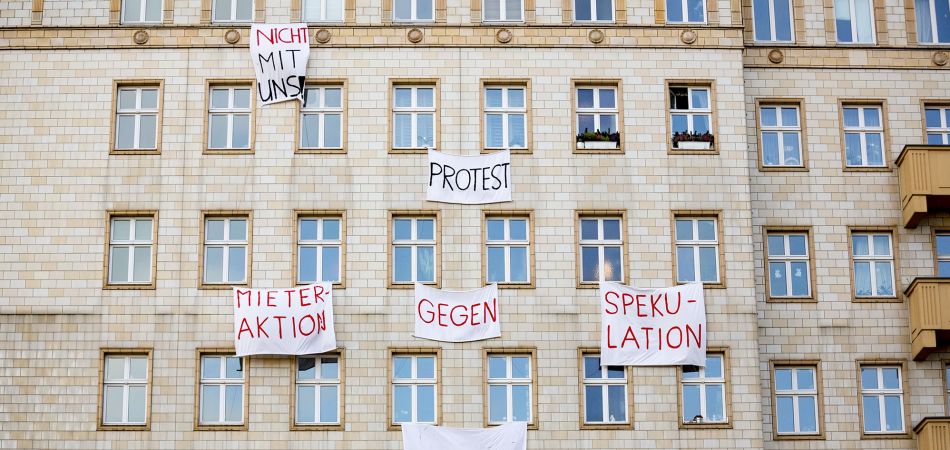 In recent years, housing in large German cities has become increasingly expensive. As a result, the average rent per square metre and month in the first quarter of 2018 amounted to 17.57 euros in Munich, 13.90 euros in Frankfurt and 13.48 euros in Stuttgart. Berlin started at a lower level, but has now already reached 11.80 euros – without ancillary costs. People on average earnings and above all families are now barely able to afford such high rents. They are already spending over 35% of their incomes on housing.
What is the reason for rising rents?
More and more people are moving to large cities for employment and quality of life. Cities were late in recognising this trend and are only now responding with housing construction programmes. In addition, construction standards have risen – among other things, as a result of climate protection regulations – and owners expect good returns from real estate. All these factors are leading to rent increases.
Why are people calling for compulsory purchases?
Many apartments belong to stock exchange-listed companies like Vonovia and Deutsche Wohnen. Unlike housing cooperatives and municipal housing associations, these enterprises' primary concern is profit.
What are the different positions?
Kevin Kühnert, Federal Chair of the Young Socialists in the SPD (Jusos), has demanded that "no one should own more housing than the property in which he or she lives". This triggered a wide-ranging debate. Robert Habeck, Federal Chair of Alliance 90/The Greens, considers compulsory purchases feasible in principle. The Basic Law provides for measures of this kind. They are also applied when highways are built. Rolf Buch, CEO of Vonovia and therefore Germany's largest private landlord responsible for almost 400,000 apartments, points out that compulsory purchases would involve considerable compensation payments. He has announced a change of strategy: less refurbishment, more construction.
What is the solution?
Compulsory purchases are expensive for the government, and housing does not automatically become cheaper as a result. The only thing that will therefore help in the long term is increased construction. That is why housing should be built on disused areas, building densities increased in city districts and bureaucratic obstacles eliminated.
You would like to receive regular information about Germany? Subscribe here: