Road trip through Germany
Wine and fairy tales, volcanoes and alps - we introduce you to romantic themed routes for your trip through Germany.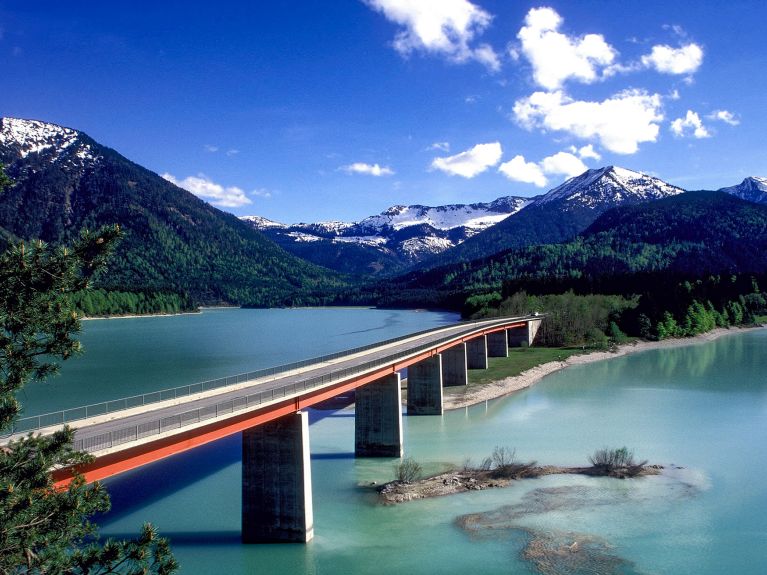 German Wine Route
The approximately 85-kilometer-long German Wine Route leads through the wine-growing region of the Palatinate in southeast Rhineland-Palatinate. The area is also called the "Tuscany of Germany" because of its mild climate. The route starts at the House of the German Wine Route in Bockenheim and ends at the German Wine Gate in Schweigen-Rechtenbach. Between spring and autumn, you can taste red wines, white wines and sparkling wine from regional winemakers at numerous wine festivals. At the German Wine Festival in Neustadt an der Weinstraße, you can witness the crowning of the German Wine Queen.
German Volcano Route
It has been around 13,000 years since a volcano erupted in Germany, but to this day you can see the traces of volcanism in many landscapes. Between the rivers Rhine, Moselle and Ahr lies the Eifel, the largest volcanic landscape in Central Europe. Cinder cones, craters and a geyser line the 280 kilometre-long Volcano Route. Along the way you can visit 39 geological, cultural-historical and industrial-historical sights related to volcanism. And the maars, the crater lakes of the volcanic landscape, are great for cooling off in summer.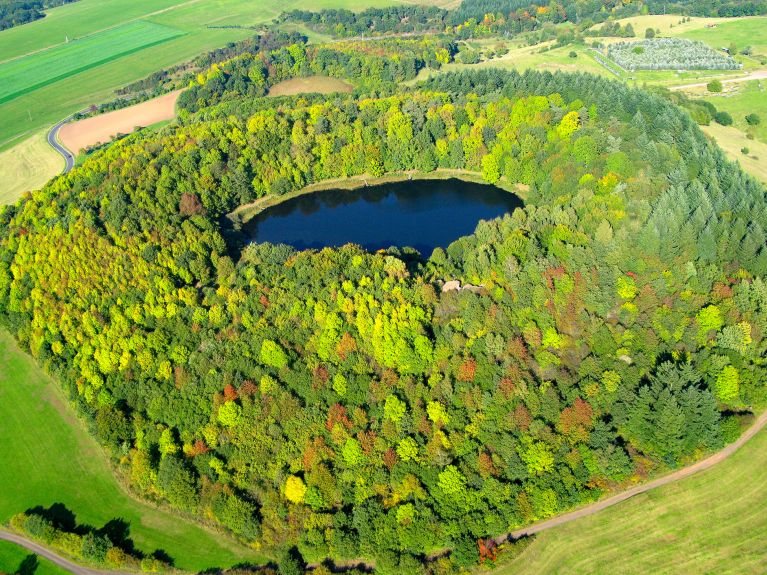 German Alpine Route
Whether with the convertible, motorcycle, bicycle or camper, the German Alpine Route is a unique experience thanks to the vast Alpine meadows, rolling hills, breath-taking mountains and sparkling lakes. The 450-kilometer route is the oldest holiday route in Germany. It starts in Lindau and continues through Oberstaufen, Füssen, Oberammergau, Garmisch-Partenkirchen, Bad Tölz, Tegernsee and Chiemsee to Berchtesgaden. We recommend stops on the island of Mainau, at the fairy tale castle Neuschwanstein and at the Abbey of Ettal.
German Fairy Tale Route
The 600 kilometre-long German Fairy Tale Route transports you into the world of fairy tales and legends. It begins in the birthplace of the Brothers Grimm in Hanau in the federal state of Hesse and ends in the North German city of Bremen, whose name you may know from the fairy tale "The Bremen Town Musicians". The itinerary leads through eight nature parks. On the way, you will learn interesting facts about the life of the Brothers Grimm and the places in which the fairy tales collected by them are set. We recommend the Red Riding Hood House in Alsfeld, the Snow White House in Bad Wildungen and the Sleeping Beauty's Castle Sababurg in the Reinhardswald.
You would like to receive regular information about Germany? Subscribe here: