Discovering Europe with Pathways
By mobile phone through the past, present and future of the EU. Pathways is a game that takes you on a virtual tour of discovery.
08.10.2020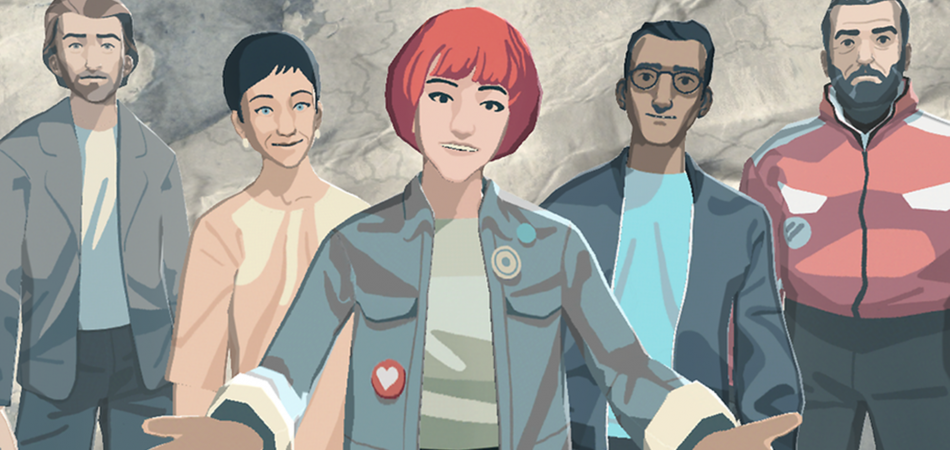 Frieda, Andreas, Lucas, Magdalena and Yanko explore the busy Gare du Nord railway station in Paris, hang out for a while at the Place du Luxembourg in Brussels and discover an Arctic research station in Tromsø. Frieda and her friends are the protagonists in "Pathways – Europe at Your Fingertips", the new serious game that can be played for free. The five of them take users on a virtual tour of discovery through Europe. Thanks to augmented reality technology, players can make their way to some 25 historical buildings or political sites relating to European history and explore them in the 360° mode.
Addressing serious issues in a fun way
Because the game forms part of the cultural programme of the EU Council Presidency, the Federal Foreign Office funded its development. As well as experiencing cultural diversity, users discover the advantages of an open and diverse Europe and are introduced to the challenges it entails.
The personal stories told by the protagonists from Germany, France, Poland, Greece and Bulgaria take centre stage. The plot of the game addresses important European issues and achievements: climate change, freedom of opinion, freedom of movement, the Bologna Process, the consequences of the financial crisis in Greece, the work done by European institutions in Brussels, and European research cooperation.
We hope that the game Pathways will teach younger people more about Europe, too.
Foreign Minister Heiko Maas
Diplomacy in language that young people can relate to
When the game was presented at GamesCom 2020, German Foreign Minister Heiko Maas stressed how important serious games such as this can be when it comes to reaching young Europeans. Many things that have a major impact on the lives of young people cannot be taken for granted: "That we live in democracies, in liberal constitutional states, that we are free to travel", says Maas, adding that these political situations can sometimes be difficult to understand. "Which is why we hope that the game Pathways will teach younger people more about Europe, too".
Games are an important communication platform – according to the industry association Game, 34 million people play video games in Germany alone. And these days the games are often far more than just a way of passing time: they can raise socially critical topics, reveal unfamiliar perspectives and inspire people to adopt a more sustainable lifestyle.
The "Pathways" gaming app, which is free of charge throughout Europe, is available from the App Store and in an Android version in the languages English, German, French, Italian, Spanish, Polish, Romanian, Hungarian, Greek and Bulgarian.