Strengthening equality worldwide
Germany's Foreign Minister Annalena Baerbock and Development Minister Svenja Schulze present guidelines for a feminist foreign and development policy.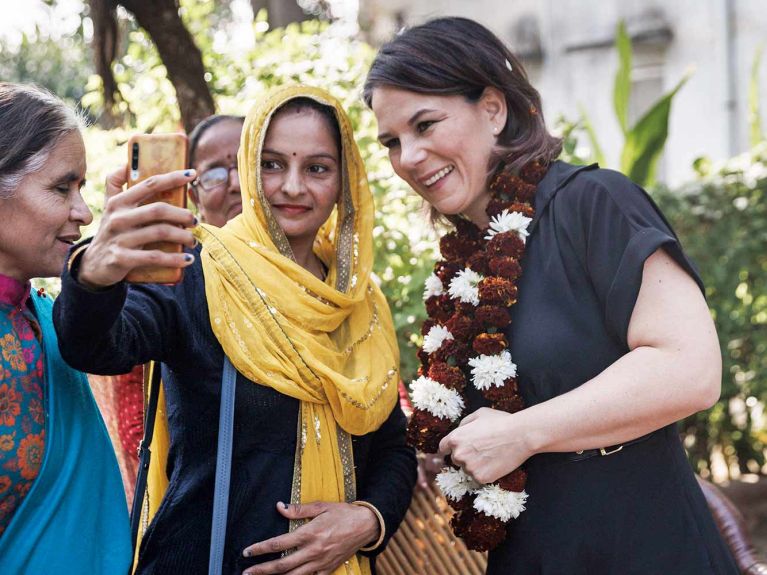 In future, German foreign and development policy will be guided to a greater extent by feminist criteria with a view to strengthening equality and equal participation worldwide. To this end, Germany's Foreign Minister Annalena Baerbock and Development Minister Svenja Schulze presented an 80-page catalogue of guidelines for a feminist foreign policy. And this is not about "foreign policy for women, but for all members of society," as Baerbock stressed.
What is meant by feminist foreign policy?
In the past, Germany has also done a great deal to promote the rights of women and girls in its foreign and development policy – the new guidelines are aimed at ensuring that the country's commitment to gender equality and equal participation is implemented in an even more resolute and targeted manner.
Kristina Lunz from the Centre for Feminist Foreign Policy is one of the trailblazers of feminist foreign policy in Germany and believes that such policy realignment is also necessary in view of the wars and conflicts worldwide: "The traditional approaches to foreign and security policy have only caused the number of conflicts around the world to double in the past few years," Lunz told the German television station ARD. Baerbock emphasised that the concept was an integral part of a values-based foreign policy and should also be reflected in the National Security Strategy "in the sense of a comprehensive understanding of security".
How will foreign policy change?
According to Baerbock, the goal of feminist foreign policy is that by the end of the legislative period 85 per cent of project funding should be spent on "gender-sensitive" projects to ensure that women's needs are taken into account. In the area of humanitarian aid, for example, consideration is to be given to the fact that women require different sanitary products than men do. Two thirds of the total budget of around 7.5 billion euros are project funds – in future, "gender budgeting" will dictate how this 5 billion or so euros is spent.
Detailing six guidelines for foreign policy activities, the document states: "We integrate the perspectives of women and marginalised groups into our global work for peace and security." The central role that women play in climate policy is also highlighted: women and diverse societal groups are "important actors and leaders in our climate and energy diplomacy". In addition, the impact of the climate crisis on women is to be offset. According to the United Nations, up to 80 per cent of those forced to flee from climate-related disasters in 2021 were women.
The realignment will also have concrete consequences for Germany's Federal Foreign Office: in the summer of 2023, the post of a "feminist foreign policy ambassador of the Federal Foreign Office" is to be created with the aim of generating primarily internal impact. "We will work hard to give our foreign service a more female face and to increase the proportion of women in leadership positions," the minister announced.
What will development policy look like in future?
"If women have equal rights and bear equal responsibility, there will be less poverty, less hunger and more stability in the world," is how Development Minister Schulze describes the approach. Her guidelines stipulate that by 2025 more than 90 per cent of newly approved project funds will be channelled into projects that advance gender equality. The concept of feminist development policy is to be anchored in collaboration with partner countries. At least 50 per cent of leadership positions in the ministry are to be filled by women.
(with dpa)