The Conscientious Consumer
They plant trees, brew sustainable beer or green the city. These enterprises are bringing sustainable changes to our lives.
Kim Berg / 04.06.2021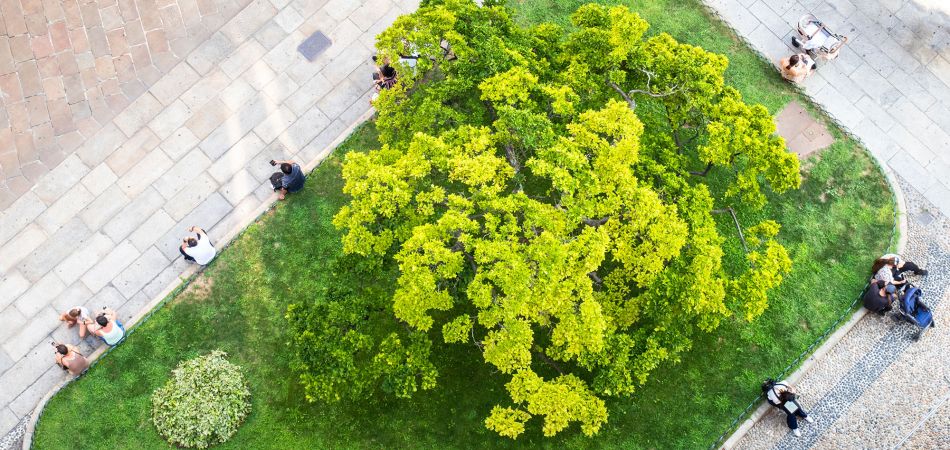 Marktschwärmer
The Marktschwärmer products travel an average of 40 kilometres from the farm to your plate. Marktschwärmer, a concept that is internationally known in English as a food assembly, is an online farmers' market that links up the online shop and farmers to digitally distribute regional products. And it helps them to find their customers where they tend to be anyway: online. Customers order and pay either via the website or via the Marktschwärmer app. The handover takes place once a week at a regional market in the neighbourhood, a so-called food assembly. There are already 140 food assemblies in Germany, and 1,364 in Europe. The project originated in France and is now operating in seven countries: France, Germany, Spain, Italy, the Netherlands, Belgium and Switzerland.
In Germany, the Marktschwärmer idea is attracting increasing numbers of fans. 2,000 producers are now delivering their regional and fair-trade products to the Marktschwärmer centres from where more than 150,000 registered users can collect their orders. The producers specify the sale prices themselves, and this ensures fair payment for the goods. One advantage of prepaid orders via the online shop is that there are no unnecessary cooling or transport costs. As a result, the producers have a better idea of the demand for their goods. In the end this all leads to far less wasted food.
PLANT-MY-TREE®
Since the year 2000 Sören Brüntgens has been planting trees to offset CO2 and counteract climate change. His friends thought it was a great idea. Many of them contributed funds to support Sören's campaign. And that's how the PLANT-MY-TREE® company was born, together with an accompanying foundation. PLANT-MY-TREE® wants to give everyone the chance to participate in environmental protection, as a private individual or as a company. There is a variety of areas to choose from throughout Germany. The supporters decide where they want the trees to be planted. They do this via the company website that also gives them the coordinates of the area where they can then visit their tree.
The foundation, PLANT-MY-TREE. Die Stiftung., now owns 100 hectares of land in Germany. Sören says: "In order to ensure that the trees will still be cared for in 99 years, I've established a foundation in addition to the company. The areas are the property of the foundation and consequently common land." The newly planted trees help to create exclusively mixed woodlands. And they include exotic trees that are unusual in Germany, such as Iranian Highland Pines or sycamores. In other words, "robust trees that can withstand the threats of climate change," the founder explains.
Active Giving
Jogging and planting a tree at the same time? It's all possible with the Active Giving fitness app. "Do something good for yourself and help the planet at the same time," that's the motto of founder Laurent Petit. Together with his partner Till Harnos, he developed the app in 2019. And through their sporting activities the users are supporting worldwide climate protection projects. Active Giving offers a choice of seven projects, and the user decides which of these he or she wants to support. Then off we go: For instance, a user can jog five kilometres to plant a tree.  Active Giving pays for the trees. The company generates revenue by placing adverts for sustainable companies in the app.  At the moment the 30,000 users have already planted 500,000 trees around the world.
But the app is not just for joggers. There's the right kind of sport for everyone. No matter whether it's yoga, golf, horse riding, kitesurfing or sailing, everything can be tracked if you so wish. "We're taking a 360-degree approach with the app. We started out with sport because we enjoy sports ourselves. But in future we want Active Giving to be more than just a fitness app. We want it to become a network for a sustainable lifestyle," says Laurent.
Nippessippi
Tomatoes from the balcony, cucumbers from beside the path and lettuce from the sidewalk: The urban gardener and designer Arne Clasvogt makes it possible. For twelve years he has been cultivating veggies in his Nippessippi allotment in Cologne's Nippes neighbourhood, and he is avidly interested in sustainability. "I originally began growing fruit and vegetables on my allotment. Meanwhile, this has developed into a little permaculture enclave. We call it Nippessippi," he says. Arne wants to show that everyone can grow vegetables if they really want to, even in the city. That's why he gives talks and occasional seminars, and is involved in the CityLeaks Urban Arts Festival, promoting pop-up gardens in public spaces.
Creative people and artists have been staging the CityLeaks Urban Arts Festival in Cologne for ten years. It offers a forum to present ideas for a city of the future. Arne and his fellow campaigners Oliver und Dominik are taking part in 2021. Together with CityLeaks and the Quack architectural office, Arne has designed and constructed raised beds and garden islands, in order to transform free spaces in Cologne's Ehrenfeld quarter into cultivated areas for fruit, vegetables and lots of flowers. "We want to start using spaces that are otherwise left unused. In this way we are creating meeting places for people, art and nature," says the pop-up gardener. Visitors can follow the life cycle of a plant throughout the year in the so-called "edible street". In this way CityLeaks and the Nippessippi team aim to show people the many cultivation options available in the city, because "you can do a lot of things with open urban spaces, if you really want to."
WILDPLASTIC
"We are just a little piece in a very big puzzle. Even so, our goal is to free the world from 'wild' plastic waste," says Jascha Mähler from WILDPLASTIC. "Wild plastic" is the company's term for plastic waste lying around in the environment. WILDPLASTIC produces trash bags from the wild plastic. "The recycling system in Germany functions relatively well. The local refuse disposal companies take care of the waste. It's not always perfect, but it's better than in most other places. We focus mainly on using plastic that nobody in the collecting regions wants at the moment," Jascha explains.
WILDPLASTIC works together with certified organizations and refuse collectors who have no comprehensive recycling infrastructure. "We're not only interested in the environmental aspect but especially in creating a social impact. In many countries, waste collectors receive little or no recognition, despite the fact that they clean up the environment and, for instance, ensure that local urban life is able to function at all in the first place," Jascha explains. That's why WILDPLASTIC tries to negotiate as fairly as possible with the collectors and so sustainably improve their living conditions.
Knärzje
They brew beer like the Mesopotamians did 5,000 years ago: A company in the state of Hesse, Knärzje, brews beer from old bread and so helps to reduce food waste. "Sometimes you don't need innovative ideas to make the world a little bit better. Sometimes ideas that are as old as 5,000 years are just as good," says company head Daniel Anthes. The company has existed officially since 2019, but it really kicked off in 2020.
Daniel first thought of using bread to make beer while on a trip to London with some friends. That was where he tasted the world's first toast beer. "I had already been involved in combatting food waste for a long time and thought the idea sounded great – using old bread to brew beer," the founder explains. Meanwhile, Knärzje produces 10,000 bottles a month. The bread is supplied by an organic bakery chain. And by the way, Knärzje is a regional term from Hesse: It's the nickname for the end piece of a loaf of bread.
Papair
Where does the packaging for my parcels come from? Very few people know the answer. And this is where Papair comes in. The start-up from Hanover produces sustainable bubble wrap from 100-percent recycled paper. "Nobody knows where the packing materials used for shipping products were produced. We want to change this," explains Christopher Feist, one of the three founders. The product isn't on the market yet, but it is already causing a stir in the international market. "We're getting calls from companies around the globe. We've had enquiries from the USA, Canada and Japan," says Christopher.
But they only want to market their product in Germany and Europe, because the idea of shipping packing materials worldwide clashes with their concept of sustainability. "We have developed a machine that produces the recycled paper bubble wrap. We would of course sell it with licence fees to countries outside Europe," the founder explains. After all, Papair's aim is to replace plastic bubble wrap throughout the world, and as soon as possible.
Heinerbike
Ferrying your child to and from the kindergarten or transporting crates and Christmas trees is no problem at all using a cargo bike. However, many people do not have the space or the money to own their own cargo bike. The transport transition to a sustainable and forward-looking form of mobility is actively supported by the 20 volunteers of the Heinerbike cargo bike initiative. In all, 131 initiatives with 447 free-to-use cargo bikes enable large numbers of people in Germany to enjoy the benefits of these large bicycles. They can be borrowed free of charge and are capable of transporting as much as would fit in a small car.
The Heinerbike initiative was launched in Darmstadt, south Hesse, in March 2018 with five cargo bikes funded by the Federal Environment Ministry. In April 2019 they were joined by a cargo bike provided by the General Student Committee (AStA) at the Technical University of Darmstadt. Since April 2021 a total of 14 Heinerbikes have been rolling through south Hesse, facilitating an intelligent, climate-friendly and modern form of mobility. This free service has been enthusiastically taken up by 2,800 people.
Using the bicycles is simple: register, book online and collect the bike from the relevant station. As a rule the bike stations are located at owner-run shops and now also at organic food retailers. The Heinerbike project has shown that cargo bikes make it possible to transport not only children but also large purchases easily, enjoyably and without requiring a lot of space.