"Increasing visibility"
Tiaji Sio started the Diplomats of Colour initiative at the Federal Foreign Office.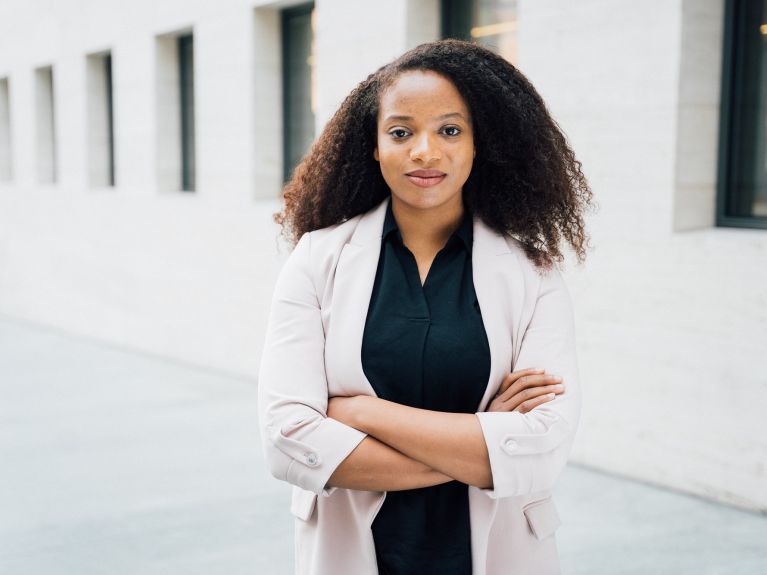 Tiaji Sio is a diplomat and is currently working at the German embassy in Hanoi. With her initiative Diplomats of Colour, she wants to promote diversity in the Federal Foreign Office.
Ms Sio, how did Diplomats of Colour come about?
I have to go back a little: I come from Frankfurt am Main, an international city. I grew up with the understanding that diversity is standard. When I started at the Foreign Office, I was surprised that the employees there weren't as diverse as the population in Frankfurt. I then got in touch with other people of colour. It started as a casual lunch meeting. Over time, the group got bigger and we decided to come up with specific ideas.
What are your concerns?
On the one hand, we observe that potential applicants with an immigrant background don't see themselves well represented at the Federal Foreign Office. So it's about breaking down barriers and increasing the visibility of people of colour. You also have to take a critical look: are the selection and promotion procedures transparent and fair? And a third topic: can the fight against racism and discrimination be given greater consideration in education and advanced training?
How do you play a part?
For example, we started a social media campaign together with the Federal Government's integration commissioner. Last year we also organized a series with experts on the criticism of racism and discrimination and reached more than 3,000 people. And our Rethinking Foreign Policy discussion series began in April.
Do you see Diplomats of Colour as a model for the administration as a whole?
It's no coincidence that such a rethinking process is beginning at the Federal Foreign Office. Thanks to the constant exchange in an international context, we have easier access to socially relevant topics all over the world. The Federal Foreign Office is very open to future-oriented ideas, and we use this advantage. Through DIVERSITY, a new network of federal employees with an immigrant background, we would like to expand our work to include all federal ministries.
You would like to receive regular information about Germany? Subscribe here: