Looking back at 2019
Two women guiding Europe; Germany celebrates anniversaries and assumes responsibility.
18.12.2019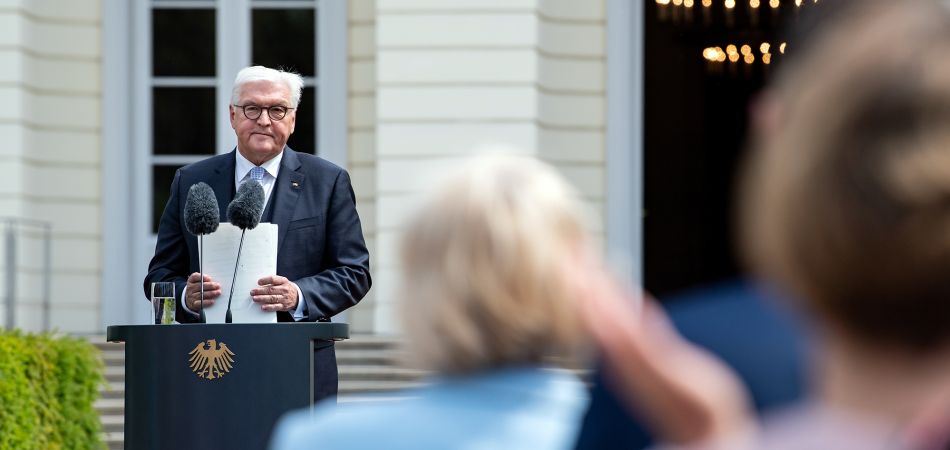 Birthday celebrations for the Basic Law
The Federal Republic of Germany celebrated 70 years of the Basic Law on 8 May. In 1949, the Parliamentary Council adopted the Basic Law of the Federal Republic of Germany. Actually, it was only supposed to be temporary, but 41 years were to pass before reunification came. On 3 October 1990, the Basic Law became the constitution of the whole of Germany. Federal President Frank-Walter Steinmeier wrote on deutschland.de about the Basic Law and the democratic development of the Federal Republic associated with it: "That is the core of an enlightened, democratic form of patriotism."
Ursula von der Leyen becomes President of the European Commission
On 16 June, the European Parliament elected the German politician Ursula von der Leyen as the new President of the European Commission. She succeeded Jean-Claude Juncker from Luxembourg on 1 November. A doctor of medicine born in 1958, she is one of Germany's most experienced politicians. She became Minister for Social Affairs and Health in the state of Lower Saxony in 2003. In the Federal Government, she headed three ministries, first as Minister of Family Affairs, then as Minister of Labour and finally, since 2013, as head of the Ministry of Defence. As the daughter of Ernst Albrecht, the former Minister-President of Lower Saxony, Ursula von der Leyen's first contact with politics came at an early age. She has been a successful dressage rider and is the mother of seven children.
Christine Lagarde now heads the European Central Bank
Christine Lagarde from France was appointed President of the European Central Bank (ECB) in Frankfurt am Main on 1 November. She initially practised as a lawyer in the USA before becoming finance minister in France, and later took over as Managing Director of the International Monetary Fund (IMF). For more than a decade, the now 63-year-old has regularly taken part in meetings of the finance ministers and central bank governors of the G7 and G20.
Germany in the UN Security Council
Germany's two-year membership of the UN Security Council began on 1 January. In April, the Federal Republic took over the chair from France for a month, as the two countries shared the presidency for a two-month period.
Federal Foreign Minister Heiko Maas formulated Germany's goals in a programmatic speech: "In the Security Council, we want to help find concrete solutions to the pressing crises and conflicts of our age. The Security Council will thus also be the central point for our engagement for multilateralism and the rules-based international order. Again and again we see that it is to the benefit of all if we work together, coordinate at international level and elaborate and apply rules together. Our maxim is: "Together first"
You would like to receive regular information about Germany? Subscribe here: