Series well worth watching
Historical, scandalous, serious – and David Hasselhoff: Five series from Germany that you should watch.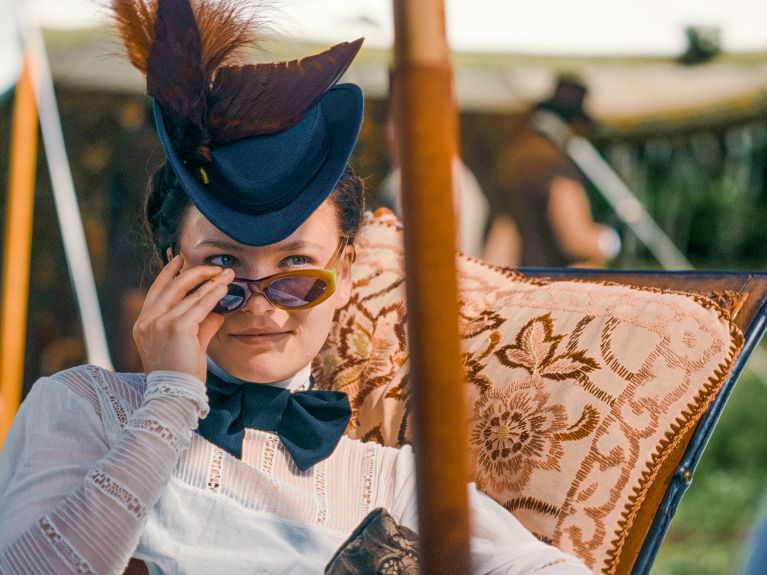 "The Empress" 
The "Sissi" films made in the 1950s were responsible for German actress Romy Schneider's international breakthrough – and now a Netflix series has put a new gloss on the drama about this Austrian empress. This time it stars Devrim Lingnau, who was born to a Turkish father and a German mother in Mannheim in 1998. A second season of "The Empress" is in the pipeline after the series proved a hit in Australia, Brazil, Mexico and the UK, among other places.
"Barbarians" 
A series entitled "Barbarians" featuring Germanic warriors battling against Romans could easily come across as crude. Yet as German daily Süddeutsche Zeitung writes, "Barbarians" is simply "too clever – and too complicated" for platitudinous interpretations, citing among other things the nuanced character of the heroine Thusnelda, played by Franco-German actress Jeanne Goursaud. One thing is clear: "Barbarians" works, and a third season of the series is already eagerly anticipated. 
"King of Stonks" 
The mini-series "King of Stonks" was inspired by more recent German (business world) history, namely the scandal surrounding the balance sheet irregularities of German fintech company Wirecard. It reveals the greed and megalomania of the financial sector, and does so in a way that is fascinating, dramatic and grotesque. Matthias Brandt, son of former German Chancellor Willy Brandt, is particularly worth seeing in the role of top-dog bad guy.  
"Safe" 
Psychological disorders in children and young adults are the subject matter for "Safe", a series produced for German TV channel ZDF. Therapy sessions are intimate theatre plays that require particular sensitivity from the actors – not to mention considerable empathy behind the camera: Caroline Link, who won an Oscar for "Nowhere in Africa" in 2003, not only directed the series; she also came up with the idea for this extraordinary project.
"Ze Network" 
RTL production "Ze Network" does not take itself too seriously – indeed even its title is a gentle mockery of the way some Germans pronounce English. However, the series, which was shot in Görlitz, features two rather special male leads: Henry Hübchen, who was already a star back in the GDR, and "Baywatch" hero David Hasselhoff, who sang about Germany's reunification in his hit "Looking for freedom". Hübchen and Hasselhoff play themselves in this offbeat spy thriller. A wild story that has been nominated for the renowned Grimme Award.