Mobile with hydrogen
Hydrogen is the energy of the future for Germany. That is why it is being used more and more frequently in mobility.
The world's first hydrogen trains
Although the railways are considered an environmentally friendly means of transport, many diesel locomotives are still in use, especially in rural areas. But this is set to change soon. The world's first two hydrogen trains have been in service in Lower Saxony since 2018. One tank of fuel lasts at least 800 kilometres. At present, the blue trains only run on a route of around 120 kilometres between Cuxhafen and Buxtehude. The state of Lower Saxony plans to deploy 14 more hydrogen trains in 2021. The state of Hesse has ordered as many as 27 trains to run in the Rhine-Main region from the end of 2022.
Hydrogen buses in major German cities
They are quiet and emission-free: hydrogen buses. The city of Frankfurt am Main plans to convert its entire bus fleet to electric buses by 2030. Half of the approximately 340 buses in operation at peak times are then to be powered by hydrogen. The 'H2.City Gold' model from Portugal is starting trial operations at the beginning of 2021 in Frankfurt. Fully fuelled, the bus has a range of about 400 kilometres. Electric buses can only travel about 230 kilometres on one battery charge.
Hydrogen cars for the police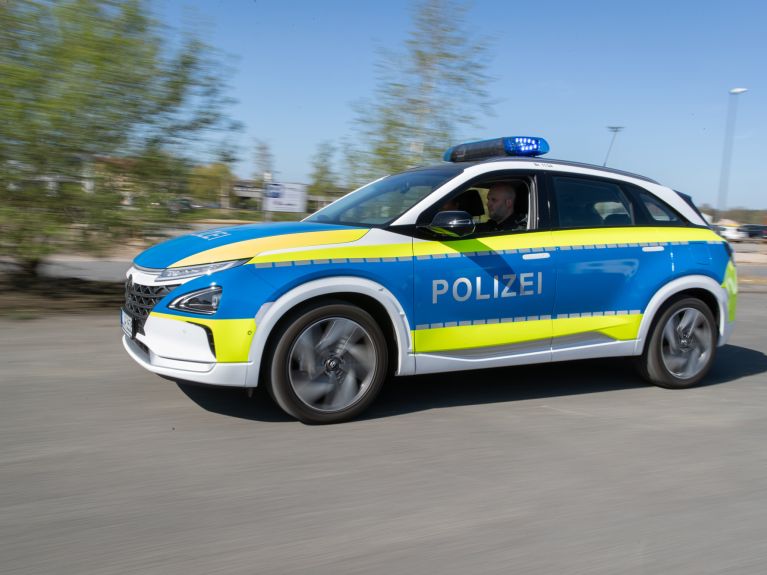 The police in Berlin and Osnabrück are driving climate-friendly patrols. The first hydrogen cars have been in use there since spring 2020; after all, the police want to set a good example. "The majority of the population thinks the police are right to be testing new environmentally friendly drives," says Osnabrück's police spokesperson. With a range of over 500 kilometres per tank-filling, the hydrogen vehicles are fully suitable for everyday use. "However," six months after the test phase began, the Osnabrück police have concluded that "a larger network of hydrogen filling stations is needed for a reliable and permanent use of this technology".
You would like to receive regular information about Germany? Subscribe here: