Giving the gift of Christmas joy
The Kinderzukunft foundation collects gifts for children in Eastern Europe. This year many parcels are also being sent to Ukraine.
Lauralie Mylène Schweiger / 12.12.2022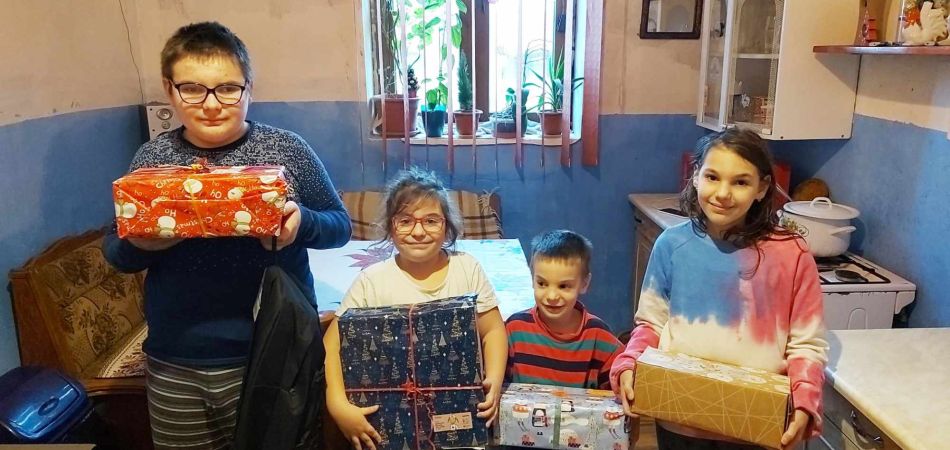 Some people can hardly imagine Christmas without presents, yet that is the reality many children face. Since 1995, the "Kinderzukunft" (Children's Future) foundation has been sending gifts to Eastern Europe to give a little joy to children who are growing up in poverty and sickness. "Each year, numerous companies, schools, nurseries, clubs and indeed private households get involved," reports Project Coordinator Hanna Lena Hohmann. "That ensures lots of happy children's faces and bright eyes."
Anyone can donate
Donations can be handed in at centres all over Germany. Lovingly wrapped, they include everything that children like: sweets, toys, crayons, arts and crafts articles. Volunteers package up and send off the donations from Hesse. In the first two weeks of December, eight lorries travel to Eastern Europe and the Balkans, where the gifts are dropped off for example at orphanages or centres for the disabled. The destination countries are Romania and Bosnia-Herzegovina. This year, 5,000 parcels will also be sent to Ukraine.
Forgetting the war for a moment
"For a long time it was difficult to establish contact with people in Ukraine, which caused great concern within our team and among everyone involved because we can barely imagine the situation there," recounts Hohmann. "Apart from the emotional stresses that this war entails, power cuts obviously also make it a challenge to contact people." Finally, however, contact was established with the foundation's cooperation partner, the Workers' Samaritan Federation. "We are very happy that it worked out and that we are now in contact. It is always good to hear from the team in Ukraine."
Reliant on solidarity
Besides the uncertainty surrounding the war, Hohmann reports on the challenge posed by rising costs. "We are particularly pleased when people also donate three euros per parcel to cover the costs of transport." She talks about how grateful she is for the solidarity that people are showing, and for all the time that volunteers donate. "You also get something back in return," says Wolfram Jäckel: "It gives me so much pleasure to imagine the shining eyes of all the children when they are handed these parcels."
The "Kinderzukunft" foundation has been working for nearly 35 years to improve the future prospects of children who grow up in poverty. Germany's Family Affairs Minister Lisa Paus is the campaign's patron this year.
You would like to receive regular information about Germany? Subscribe here: